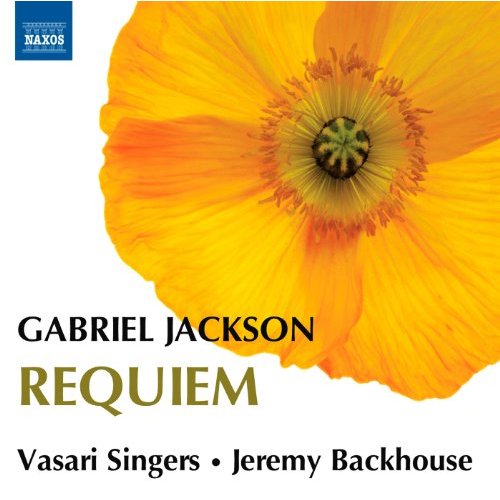 Album Review
Posted:
Friday 9th August 2013
Gabriel Jackson: Requiem – Audiophile Audition
More Jackson—he just keeps on a comin'. This time my curiosity was really peaked, as this is his Requiem, maybe the most revered choral form in all of music, and certainly one that has seen more than its share of masterpieces. Would this be innovative and extraordinary, a product of Jackson's fevered imagination? Would it surpass Faure and Durufle? Well, no. It falls into a very broad category of current Anglican-inspired yet peppered with eastern poetry works that seem to litter the landscape these days. Far too often these become cliché and sentimental death-denials that try to obliterate the very real concern of those departed and of all of us who will, one day, be joining them. Jackson has chosen the route of optimism, not one that concentrates on us the living, though there is that element, but one that believes fervently in the reality of a better life to come, one that follows connectedly to this one. In it he has interpolated English text segments from other non-Christian religions in the "even" numbered spots of the traditional Requiem Mass. In doing so he has created a work of exquisite beauty and luminous choral sound that brings you to tears in several instances and constantly soothes the spirit while giving that rarity found these days in art of any kind—hope.
Two other antiphons follow: In all his works was written as tribute to organist and chorus master at Canterbury Cathedral Allan Wicks, a man who influenced both Jackson and conductor Backhouse. The pithy and terribly moving I am the voice of the wind was written by a thirteen year-old girl, Geraldine Atkinson, who, after recently receiving qualifications as a doctor, died suddenly on holiday at the age of 24. How she penned these words at that tender age, or what inspired her, may never be known:
I am the voice of the wind on your cheek,
I am the warmth of fire between fingers,
I am the smell of spring in the air,
I am the stars to lead you home,
I am the echoes in the caves of loneliness,
I am the rain to cool your skin,
I may be gone from this life my friend,
But remember I am not yet dead.
Her parents, Chris and Elizabeth (a member of Vasari) commissioned this highly-moving work.
Bob Chilcott has taken the ubiquitous Canon of Pachelbel and turned it into a vehicle for Oscar Wilde's medieval-styled poem Requiescat. I never thought to hear the Canon in any form that could erase the plethora of aberrant usages it has found in film and TV, but this once does it, recapturing the loveliness and wonder we all thought when first we heard it. John Tavener's Song for Athene is a modern day choral classic, and rightly so, achieving immense popularity after it was sung in the recession for Princess Diana's funeral years ago. And When David heard, King David's Biblical lament of the death of Absalom, Francis Pott gives a wink and a nod to the music of the seventeenth century, especially Thomas Tomkins, in a piece of great strength and intense emotion.
The Vasari Singers are one of the finest professional chamber choirs in Great Britain, having existed since 1980, and have an extensive discography. The 31 singers are exemplary in their dedication to music new and old, and display a fine tonal quality of exceptional intonation and technical ability. The Tonbridge School Chapel in Kent provides a marvelous quality capture in full in a recording of audiophile quality.
Steven Ritter
Audiophile Audition