How you can help Vasari
Vasari Singers is extremely grateful for all the support we receive through attendance at our concerts and other events, membership of our Friends scheme, promoting and hiring the choir and from the sales of our albums and other merchandise.
Like many other organisations, the current challenges presented as a result of COVID have had a significant effect on our activities. This was particularly difficult for us at a time when we were due to be celebrating our 40th Anniversary in 2020. We are proud that we were able to remain active throughout, albeit virtually, and that by July 2021, were able to return to live singing, having retained all our members and even received applications from prospective new members.
We try to keep our costs to a minimum, but even online events cost money and our main income sources from concerts and other events, such as Come and Sings, dried up because of the pandemic. We are only now, at the end of 2021, beginning to plan cautiously for live concerts in the coming years.
If you have attended one of our events and/or feel able to provide some additional financial support for the choir, we would be very grateful if you could make a donation using this Paypal page:
Friends of Vasari
We would be delighted if you would consider becoming a Friend of Vasari. Our Friends are a very special part of the Vasari family and they enjoy various benefits including invitations to special Friends events; discounts on our CDs and Come and Sings and reserved seating, free programme and interval drink at our own promotion concerts.
Contact friends@vasarisingers.org if you're interested in becoming a friend of the choir.
40th Anniversary Merchandise
As well as purchasing CDs from our extensive discography, we have two very special 40th Anniversary items.
Our newly-released and lavishly-illustrated book, Vasari Singers – a History, celebrates 40 years of singing in a choir that, in Bob Chilcott's words, "redefined what it was to be a really high quality amateur choir". This beautiful, 168-page Limited Edition volume, written and compiled by founder members Julia and Malcolm Field, traces the choir's history from its very earliest days in the 1980s up to the moment the choir had to abandon live singing in Spring 2020. There are unique personal archive photos, plentiful anecdotes and extensive appendices, including a full event history.
Our 40th Anniversary water bottle is a practical way to support Vasari Singers. Designed for our Come and Sing Event in March 2020 – our first event to be cancelled because of the Coronavirus – this light-weight aluminium screw top bottle is a must have for singers and non-singers alike.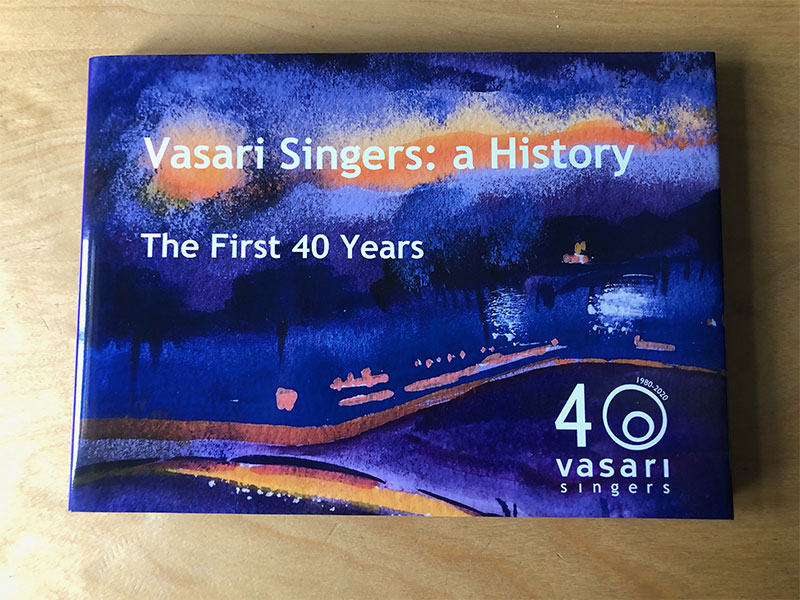 Vasari History Book
£20.00 + £3.50 Delivery
A beautiful, 168-page Limited Edition volume tracing the choir's history from its very earliest days in the 1980s up to the moment the choir had to abandon live singing in Spring 2020.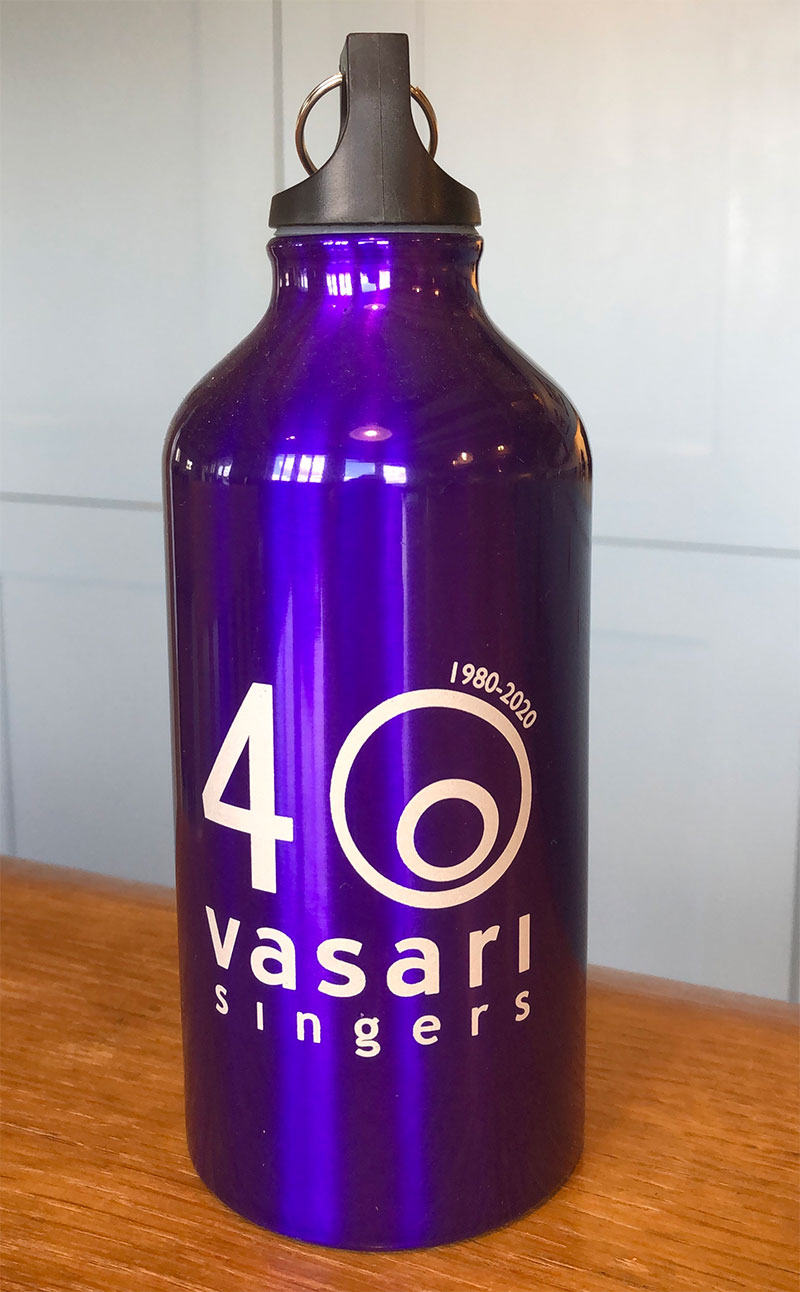 Vasari Water Bottles
£5.00 + £3.00 Delivery
High quality aluminium 500ml water bottle in classic Vasari purple, with our 40th Anniversary logo.