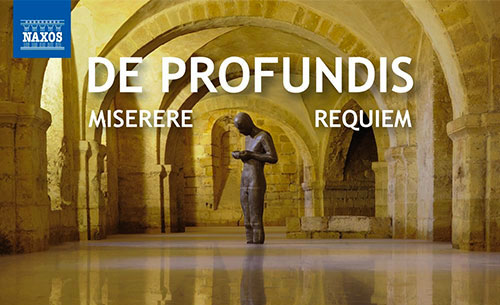 Album Review
Posted:
Friday 7th November 2014
De Profundis, Miserere & Requiem – The Classical Reviewer
Ildebrando Pizzetti (1880-1968) was born in Rome and studied at the Parma Conservatory before teaching in Florence, Milan and finally at the Academia di St Cecilia in Rome. In addition to operas, orchestral, chamber and instrumental works he wrote many choral works including the two featured on this disc.
The first of Pizzetti's works on this disc is De Profundis (1937) which has a wonderful opening as the voices of the Vasari Singers slowly build the textures providing a fine rubato. Pizzetti layers the music especially well with a lovely passage where the female voices come in over the male voices, rising to a fine peak before falling back for the gentle coda.
Gian Francesco Malipiero (1882-1873) was born in Venice where he studied at the Licei Musicali before continuing his studies in Bologna. His study of the works of Monteverdi and the influence of Stravinsky, whose Rite of Spring he heard in Paris, remained influences on his music. His compositions covered most genres from opera through to piano music.
On this new disc we can hear the World Premiere recording of his De Profundis (1937). The work opens with deep pedal notes from the organ before a viola melody appears. Baritone, Matthew Wood is really fine when he enters in this melancholy setting. There are some especially lovely passages for viola and organ but it is the fine singing of Wood that makes this performance. The music rises centrally before, with deep organ, bass drum and viola the somewhat dark coda is reached.
Gregorio Allegri (1582-1652) is mainly known for the one work performed on this disc, his Miserere. Just as well-known is the story of Mozart writing down the work from memory whilst hearing it performed in Rome whilst visiting with his father, thus breaking the monopoly that the Vatican held on performances. Allegri was a singer and composer at the cathedrals of Fermo and Tivoli before becoming maestro di cappella of Spirito in Sassia, Rome as well as a singer in the Papal Choir.
Here the Vasari Singers bring a beautifully blended tone to the Miserere, beautifully poised with the female and tenor voices providing some lovely sections. Both Jocelyn Somerville and Susan Waton (sopranos) are credited in this work. Certainly the soprano taking the spectacularly difficult treble part, as it soars high up, is terrific. This is a very fine performance where subsequent passages are decorated and varied as indeed it is thought would have been the practice in Allegri's time. The small group of singers that also includes Elizabeth Atkinson (alto) and Keith Long (bass) provide some beautifully decorated passages. The choir as a whole bring a very fine, mellow blend of voices that often have a mesmerising effect.
James MacMillan (b.1959) https://twitter.com/jamesmacm www.boosey.com/composer/james+macmillan was born in Ayrshire, Scotland and studied at Edinburgh University before undertaking further studies with John Casken at Durham University. His music is influenced by both his Catholic faith and Scottish folk music. Amongst his many compositions including opera, orchestral, chamber and piano works, sacred choral works hold a prominent place.
The Vasari Singers fine textures are particularly revealed in their performance of his Miserere (2009) with some very fine little rhythmic inflections and fine handling of MacMillan's harmonies. When the music suddenly breaks out of its withdrawn calm there is singing of biting precision, the male voices showing fine incisive qualities. There are moments that are reminiscent of Allegri's Miserere, the work intended to be a 21st century take on the setting of this penitential psalm. The music eventually rises suddenly for whole choir with moments of intense stasis over which the voices of Julia Smith (soprano), Julia Ridout (alto), Paul Robertson (tenor) and Matt Bernstein (bass) intone. The music rises finally for the whole choir in a moment of intense feeling before leading to the gentle coda. What a fine setting this is, receiving here a really lovely performance.
Giacomo Puccini (1858-1924) is, of course, known as an operatic composer. He wrote a number of sacred choral works earlier in his career but his Requiem, written to commemorate the fourth anniversary of Verdi's death, dates from 1905. As with Malipiero's De Profundis, it is written for choir, viola and organ. It rises slowly and gently with a fine melody before the viola enters full of restrained emotion. The music soon rises more passionately but falls back as the viola adds an anxious feel. The choir, viola and organ lead to the sad coda with a simple amen and final organ chord.
The other work on this disc by Pizzetti is his Messa di Requiem (1922) a work given a higher profile with an award winning Hyperion recording by the Choir of Westminster Cathedral under James O'Donnell coupled with Frank Martin's Mass for Double Choir.
The male voices open the Requiem before the female voices join, as this lovely setting moves forward. Jeremy Backhouse draws from his Singers a natural forward flow with little surges finely brought out. The Vasari Singers weave some lovely vocal textures and, towards the end some beautifully luminous singing.
The Dies Irae has a gentler opening yet with a nervous tension, this choir bringing a fine control with some beautifully woven musical lines. The music soon rises with singing of stunning brilliance and power. The old plainchant appears openly in a lovely passage. Lower and upper voices overlaid, rich lower textures and pure upper voices in a gloriously held section as we are led into the lovely coda.
There is a luminous opening to the Sanctus before it gains in richness. There is first rate singing here with so many textures emerging before rising to a central peak. At the end there is a very fine Hosanna in excelsis.
There is a gentle yet often soaring Agnus Dei with these voices providing a terrific blend of textures and a superb, deeply felt coda. The Libera me slowly rises to some powerful writing with some exceptionally fine choral work as the choir gently lead to the conclusion with some lovely rises in passion before the end.
Finely recorded in the excellent acoustic of Tonbridge School Chapel, Tonbridge, Kent, England, with excellent documentation and with full texts and English translations what more could one want. This is a terrific disc.
Bruce Reader
The Classical Reviewer