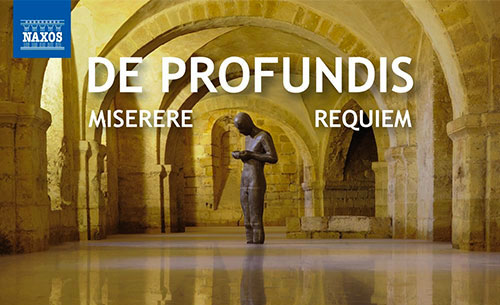 Album Review
Posted:
Sunday 7th December 2014
De Profundis, Miserere & Requiem – David's Review Corner
The disc turns the clock back to the 1630's when Gregorio Allegri composed Miserere, one of the great masterpieces of his time for use in Rome's Sistine Chapel. The work, one of beauty and ethereal tranquility, is here given a performance that goes to the top of my recommended recordings. Jumping forward to 1905, you might never put a composer's name to Puccini's brief Requiem, so untypical is the scoring. Likewise Pizzetti's Requiem from 1922 could have come from fifty years earlier, the result being a very listener friendly-score, the most extended movement based on the famous Dies irae theme used by so many others, while the following Sanctus moves towards the 'pop' part of classical music. De Profundis stylistically turns the clock back even further to the days of the great polyphonic composers in its setting for seven part mixed voices. You will find it even more surprising that the modernist credentials of James MacMillan have been somewhat put aside in his use of the same text as Allegri's Miserere. Completing this imaginatively programmed disc, Malipiero's De Profundis is scored for baritone, viola, piano (here taken by the organ) and bass drum. The Vasari Singers are in fine voice for their conductor, Jeremy Backhouse; their dynamic range is wide, with quiet passages finely spun. First class sound.
David Denton
David's Review Corner