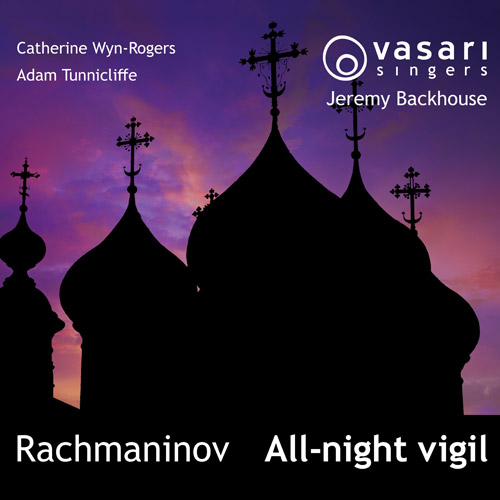 Album Review
Posted:
Tuesday 30th January 2018
Rachmaninov: All-night Vigil – Gramophone
The Vasari Singers join an ever-expanding field with this new recording of a work that was once considered very exotic by most Western choirs. Competition is consequently intense but the Vasari acquit themselves very well indeed in this recording made to celebrate the 60th birthday of the conductor, Jeremy Backhouse.
They begin with the opening blessing, which is always much better than starting out of the blue with 'Priidite poklonimsya', and this is followed by a fine rendition of 'Blagoslovi, dushe moya' with Catherine Wyn-Rogers on outstanding form. Jeremy Backhouse is not afraid of relatively slow speeds – this section lasts a full five minutes – and this can pay dividends; but there is the corresponding challenge of maintaining the tension of the musical line, and this is not always entirely successfully achieved in the following 'Blazhen muzh'. No such problems affect 'Svete tikhi' or 'Nyne otpuschaeshi', with its famous low bass B flats, however, and both benefit from the excellent solo contributions of Adam Tunnicliffe.
Other highlights include the 'Shestopsalmie', with its extraordinary contrasts of light and dark, the fiery 'Khvalite imya Gospodne' and 'Voskresenie Khristovo videvshe', and a very well-shaped Great Doxology, which builds up superbly. Pronunciation is very good, though Englishness does slip through from time to time. A bonus is the superb booklet, with full transliterations and translations, and thorough notes by David Bray.
Ivan Moody
Gramophone