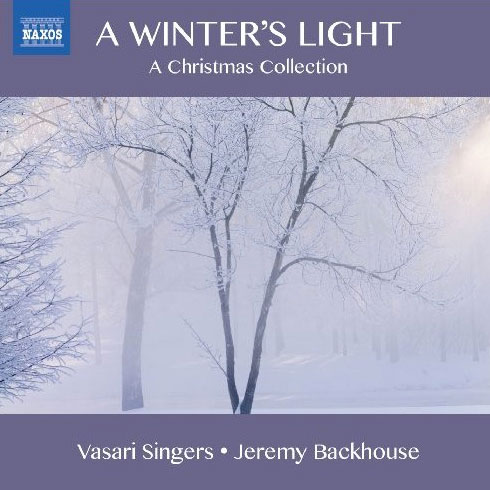 Share Album
Run Time: 72.28
Release Date: 2012
Label: Naxos
ASIN: B009U1JEOI
A Winter's Light
£7.50
Delivery is charged at current Royal Mail prices. FREE on all orders over £30.00.
Dispatched within 2-4 days of purchase.
This is the truth Chilcott

3.22

Gabriel's message Rathbone

1.40

Hodie Christus natus est Sweelinck

3.41

Es ist ein Ros entsprungen Praetorius, arr. Sandtrom

3.58

Sing Lullaby Howells

3.25

Hymne a la Vierge Villette

3.53

Sweet was the song Chilcott

4.11

Of the Father's heart begotten Willcocks

2.59

Hodie Christus natus est Gabrieli

4.13

Rejoice and be merry Chilcott

1.46

O little town of Bethlehem Walford Davies

5.04

The stable door Armstrong Gibbs

2.25

O Holy Night Adam, arr JE West

5.37

In the bleak mid-winter Darke

4.40

The Christ Child Jackson

5.00

Nativity Carol Rutter

4.22

Jingle Bells Pierpoint arr. B Parry

2.41

Christmas-tide Chilcott

3.05

I believe in Father Christmas Larke, arr. Rathbone

3.14

Carol Medley Rathbone

3.12
Album Details
The Vasari Singers' annual carol concerts always provide a warming blend of traditional favourites and less well-known music from all periods and styles.
Here, joyous and masterful 16th-century polyphony sits alongside eternally popular victorian carols, and exquisitely crafted settings by Howells and Walford Davies join works as recent as Gabriel Jackson's the christ-child. Bob Chilcott magically superimposes traditional carols with entrancing new material, and no Vasari christmas would be complete without some close harmony swingle singing.