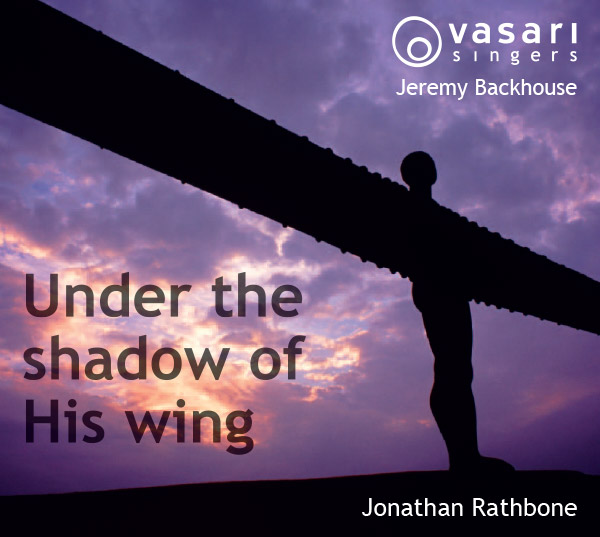 Share Album
Run Time: 99.43
Release Date: 2015
Label: Vasari Media
ASIN: B015OPMDEQ
Under the shadow of His wing
£10.00
Delivery is charged at current Royal Mail prices. FREE on all orders over £30.00.
Dispatched within 2-4 days of purchase.
Te lucis ante terminum

6:54

Now that the sun has veiled its light

7:54

Jesu salvator saeculi

6:49

Magnificat

5:57

Nunc Dimittis

5:38

O nata lux

6:06

Close thine eyes

3:43

Christe qui lux es et dies

8:36

In pace, in idipsum

5:59

Blessed is the man

9:45

Glory to Thee, my God, this night

5:00

Care-charming Sleep

3:36

Into Thy hands

7:02

Hail, gladdening Light

4:47

Recessional (Te lucis ante terminum and Amens)

5:46

Abide with me

6:11
Album Details
Under the shadow of His wing is the first release on the new VasariMedia label. Commissioned by Vasari Singers, the piece was conceived by composer Jonathan Rathbone as a contemporary reworking of the Vespers service. Movements for three choirs are skilfully intertwined with a female semi-chorus, full choir and octet. Contemporary settings of traditional texts are mixed with sublime arrangements of well-known hymns. The listener is taken on an atmospheric musical journey from darkness to light, in an enveloping acoustic experience.
The work was premièred by Vasari Singers in October 2014 at St Alban's Church Holborn to a rapturous reception. Vasari Singers, one of the UK's finest chamber choirs, is now in its 36th year under conductor Jeremy Backhouse, and has a long history of commissioning major new works from a wide range of composers. VasariMedia is a new venture for the choir, which has never failed to disappoint through its discography of 25 CDs released on commercial labels. This 16-track double CD was recorded in the resonant chapel of Tonbridge School, Kent, in February 2015 under the expert guidance of producer Adrian Peacock.
Under the shadow of His wing – Musicweb International

-

Rathbone's music has been splendidly served here by Jeremy Backhouse and the Vasari Singers.

The Vasari Singers have a proud record of commissioning new music. Indeed, for the choir's 25th anniversary, which fell in 2005, they commissioned new pieces from no fewer than ten composers, recording all but one of them on an album entitled Anthems for the 21st Century (review). One of the composers on that occasion was Jonathan Rathbone. Now the Vasari Singers have turned to him again for a new work but this time on a much more ambitious scale.

Under the shadow of His wing, premiered in October 2014, was "conceived as a contemporary re-working of the Vespers service" in the words of Jeremy Backhouse. He also comments that "rather like the traditional Vespers service itself, [Rathbone's score] takes us on a musical journey from darkness to light." The composer says that the piece is "something between an act of worship and a concert." It's written for a cappella chorus but, in fact, the chorus is divided into two and sometimes three separate choirs. In addition a female semi-chorus is used at times. At several points in the score spatial separation of the various choirs is used to heighten the effect of the music. This separation is well conveyed in the recording.

The score is cast in no fewer than sixteen separate movements and it incorporates a number of liturgical texts associated with evening or night time. So, for example, there are settings of the Magnificat and Nunc Dimittis. There are also settings of a number of texts associated with the evening and night Offices of the Christian church, including 'Te lucis ante terminum', 'In pace, in idipsum', 'Glory to Thee, my God, this night' and 'Hail, gladdening light'. The work finishes with 'Abide with me'. A number of thematic motifs are used on a recurring basis to unify the score though I have to confess that I couldn't easily identify these motifs save for those which are based on familiar plainsong.

There's much to admire during the course of the individual movements. I like Rathbone's setting of the Magnificat where excited, quick-moving musical figures are married with slower-moving lines to good effect. Mary's joy at the prospect of being the mother of Jesus is well conveyed. The Nunc Dimittis is also attractive: here Rathbone builds the intensity of the music from a thoughtful opening before relapsing into tranquillity; the process is repeated in the doxology. 'Blessed is the man' is the longest movement and here a lot of use is made of three widely-spaced choirs. This is quite an impressive movement, not least on account of the multi-layered choral textures. It also helps, I think, that there's some impassioned music in this movement. 'Into thy hands' is another multi-layered movement and I can imagine it would especially make an impact in live performance.

I don't think all the music is as successful, however. The seventh movement, 'Close thine eyes' is scored for an octet of singers (two to a part.) Here we're told Rathbone has borrowed a lot from jazz harmonies. There's certainly no hiding place for the singers in this movement – and the eight members of the choir acquit themselves well. However, I'm afraid I didn't warm to the harmonic language at all; it doesn't seem to gel with the words. The following movement, 'Christe qui lux es et dies' is another one in which spatial effects are employed. Three groups of singers are involved but on this occasion the spatial effects seemed to militate against the music – and since these effects work well elsewhere I don't think the singers can be to blame here. In this movement I found the words almost indistinguishable. The effect is that of a halo of sound but the result, while atmospheric, is diffuse. Perhaps this is one reason why I felt that this movement is too long for its material. Later in the work comes 'Care-charming sleep', a setting of a poem by John Fletcher (1579-1625). This is written for the female semi chorus of just four voices. It's well sung but I'm afraid I found my attention wandering. The work concludes with a setting of 'Abide with me'. The familiar tune is used and Rathbone's arrangement starts hauntingly with just an octet of voices. However, as the setting unfolds I found some of the key changes and harmonies unconvincing. Others may take a different view but I didn't think this last movement worked. I rather wish Rathbone had ended with his fourteenth movement, 'Hail, gladdening light'. This is a good, strong piece containing music with a genuinely strong profile. Indeed, it's described in the notes as "in effect, a triumphant conclusion to the piece." So why not end with it?

So, musically I think Under the shadow of His wing is something of a mixed bag. Jonathan Rathbone tells us that the music "is intended to be soothing and reassuring – the reassurance comes from imitating styles of the past [such as plainchant], mixed with more modern yet carefully handled harmonic ideas." I'm afraid that one of my foremost reservations about this score comes from the very fact that so much of it is "soothing and reassuring". To be sure, there's a great deal of beautiful-sounding music here but I found myself craving rather more in the way of assertive writing or even nothing more than music ins a quicker tempo. So much of the music is slow-moving that I found my attention wandering. Furthermore, the harmonies are usually warm and comforting to an extent that eventually I came to find some of the music bland. An obvious exemplar – even though the musical styles are poles apart – is Rachmaninov's All-Night Vigil. However, the Russian master includes not only beautiful, prayerful settings in his great work but also outbursts of praise and fervent joy. By comparison, too much of Rathbone's work seems somewhat one-dimensional.

The other significant reservation I have concerns the sheer length of Under the shadow of His wing. I do wonder how many choirs will feel able – or wish – to invest the time and effort to learn a score that lasts for nearly 100 minutes and is all unaccompanied. I suspect that the score will make a stronger impression if experienced in live performance where there's a visual dimension too. Heard simply in an audio recording, however, one becomes conscious that this is a long piece. The composer says that the movements are designed also for separate performance and that's good because there are some interesting individual pieces in here that I can well see having a life of their own. I'm left with the feeling that the score as a whole and some of the individual movements within it would have benefited from editing. It's hard to avoid the feeling that the composer has got carried away a bit. In passing, I notice that on the composer's website Under the shadow of His wing is described as being eighty minutes in length, which in itself would be a substantial length. That entry, it is clear, was written prior to the first performance of the work.

However, I must emphasise that there are some very good individual movements in the score. Each time I've listened to this recording I've listened to the entire work. Clearly anyone buying this recording will want to do the same. However, I suspect that greater rewards may be gained from listening selectively to individual movements. I'm not sure if Under the shadow of His wing has yet been published but I hope that choirs will be able to purchase copies of individual movements; that, I am sure, is how the music is likely to gain the widest currency.

Rathbone's music has been splendidly served here by Jeremy Backhouse and the Vasari Singers. I've never been disappointed by the quality of their singing on disc and they maintain their high standards here with singing that is committed and sensitive. They've been well recorded in what has become their regular recording venue. Engineer Dave Rowell and producer Adrian Peacock have captured the choir faithfully and atmospherically and, as I've said already, have conveyed the spatial effects successfully. The documentation is good, which augurs well for the choir's new label.

John Quinn
Musicweb International

Under the Shadow of His Wing – The Guardian

-

**** ...seductively lush harmonies in 16 attractive a cappella pieces.

Vasari Singers launch their own label with this wide-ranging, evocative double-CD meditation on the journey from darkness to light, a reworking of the Vespers service by Jonathan Rathbone, who takes texts from the liturgies of Compline and Evensong and applies double and sometimes triple choir techniques to achieve seductively lush harmonies in 16 attractive a cappella pieces. This talented and versatile choir deserves praise not only for its skilful singing but also for once again commissioning work that refreshes the British choral repertoire, including an imaginative Magnificat and Nunc Dimittis and a sumptuous setting of Now that the sun hath veiled his light.

Stephen Pritchard
The Guardian
18th October 2015