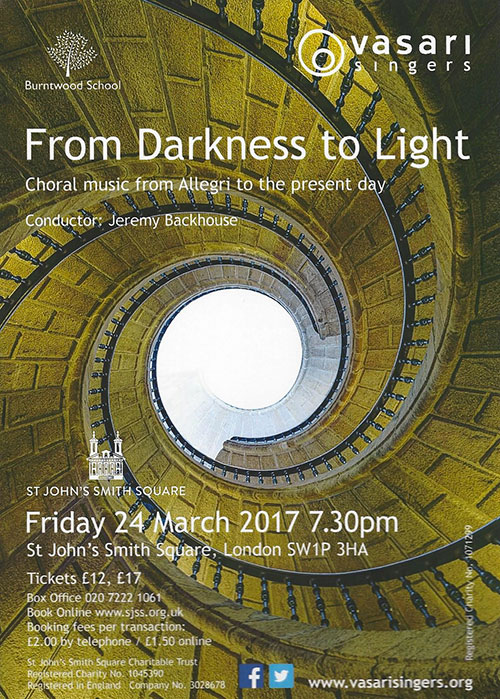 Share Event
From Darkness to Light
Friday 24th March 2017
7:30pm
St John's Smith Square, Westminster, SW1P 3HA.
£12, £17
Concert Details
Choral Music from Allegri to the present day.
An evening of choral music with the award-winning Vasari Singers and their younger friends the Chamber Choir of Burntwood School.
The first half of the programme will be unaccompanied and brings together the timeless beauty of the Allegri Miserere with the emotion of Parry's Songs of Farewell, composed during the First World War.
A lighter, accompanied second half includes the uplifting warmth of Will Todd's Inside my Heart, a small gem by current Master of the Queen's Music Judith Weir and the humour of cautionary tales by Hilaire Belloc and Heinrich Hoffmann set to music by Antony leFleming. The last two pieces will feature percussionist Paul Stoneman.
Allegri: Miserere
Parry: Songs of Farewell
Will Todd: Inside my heart
Judith Weir: I carry your heart with me
Antony le Fleming: Matilda
Location