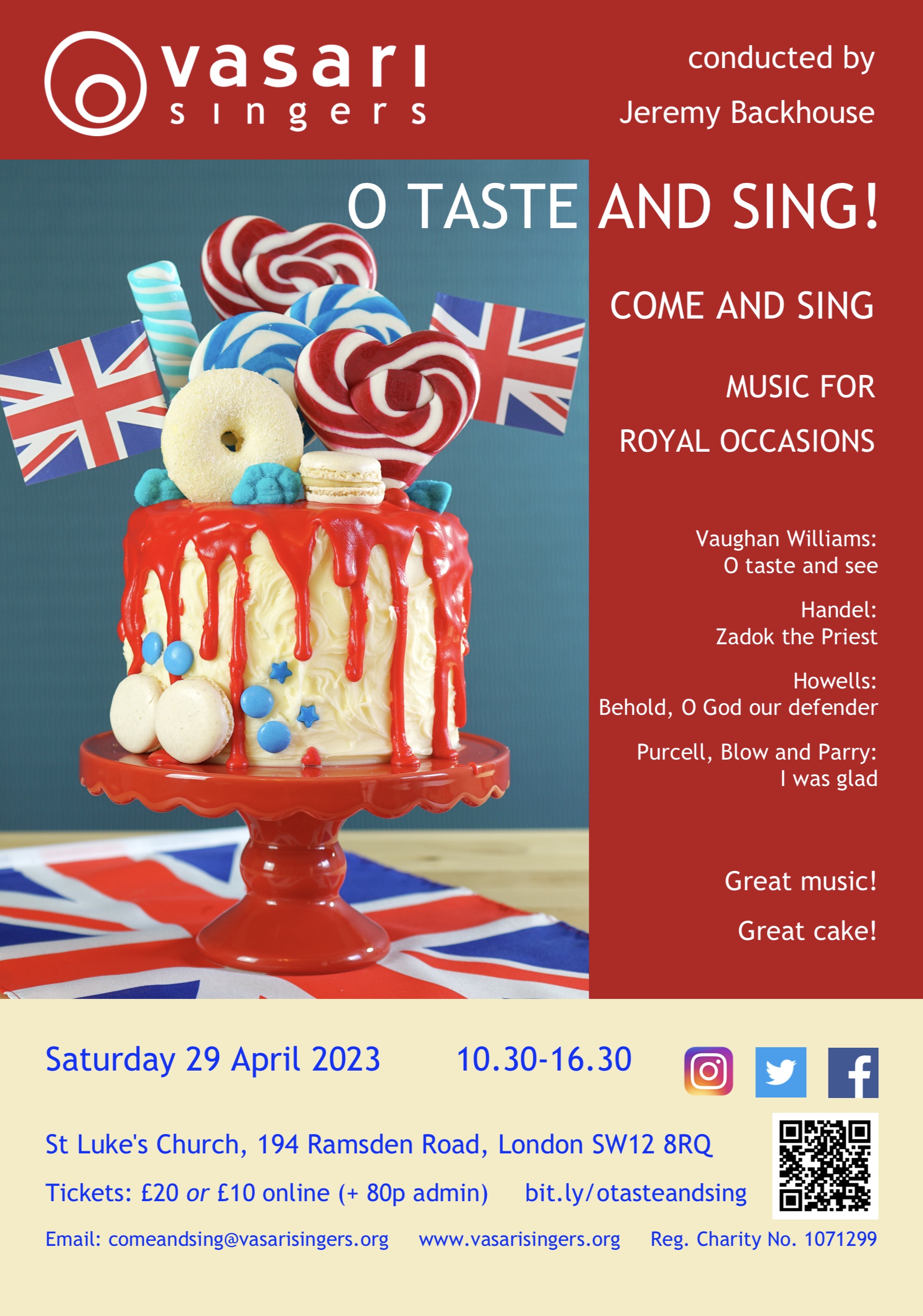 Share Event
O Taste and Sing! Music for Royal Occasions
Saturday 29th April 2023
10:30am
St Luke's Church, Ramsden Road, London, SW12 8RQ
£10/£20 + 80p booking fee
Concert Details
A Vasari Singers
'Come and Sing' workshop
led by Jeremy Backhouse. Join Vasari Singers in a day of celebration of royal choral music through the centuries. The workshop will run from 10.30am to 4.30pm.
Vaughan Williams: O taste and see
Handel: Zadok the Priest
Howells: Behold, O God our Defender
Purcell, Blow and Parry's settings of I was glad
Spend a day rehearsing and singing this wonderful music in the company of Vasari Singers and under the expert direction of their Conductor Jeremy Backhouse. The day will end with a short informal free concert given by the whole company! Invite your friends.
This event will take place both in-person and also online. Choose which suits you best.
•
Do I need any choral singing experience to come along?
NO – just come along and have a go. There will be plenty of people there that can help out.
•
I am joining online – how will this work?
We will have an audio and video feed from the church and you will be able to zoom in from your own computer or tablet. Keep yourself on mute and join in as though you were there in person. There will be an online host to answer questions and assist the online participants throughout the session.
•
Do I need to bring my own copies of the music?
NO – we will have copies available to hire on the day or as links for online participants.
•
Will you be sending the music out in advance?
We're afraid we can't send out music in advance but there will be plenty of time to learn it on the day.
•
Will I be able to park?
YES there is plenty of free on-street parking outside the church.
•
What are the public transport options?
Tube to Clapham South on the Northern line or overground to Clapham Junction and bus G1 to Broomwood Road
•
What time should I get there?
The church will be open from 9.45 am for participants to pick up music. Tea and coffee will be available. Please try and arrive by 1015 at the latest so that we can start on time.
•
What time will the online stream start
We will go online to welcome you all and iron out any individual technical problems from 10am.
•
Is there disabled access?
YES, there is step-free access into the church and accessible loos in the church hall. If you have any other questions about access or any special needs please email
comeandsing@vasarisingers.org
•
Food and drink?
there will be tea, coffee, water and copious amounts of cake available throughout the day. Please bring your own lunch or go out to one of the local pubs or cafés
•
Can my friends come to hear the performance at the end of the day?
YES please – the more the merrier – there is no charge for audience. We will be starting the final performance at 3.45pm
Location