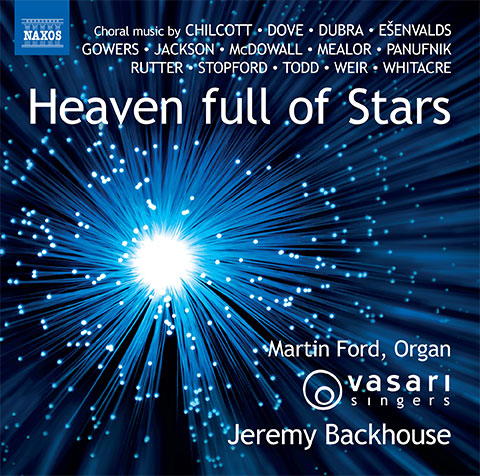 Album Review
Posted:
Friday 10th September 2021
Heaven Full of Stars – MusicWeb International
*****
One of the most striking things about this CD – before you ever get to the music – is that out of the fourteen composers represented, all but one are still alive, with the two youngest, Philip Stopford and Ēriks Ešenvalds, born in 1977. That fact is an impressive indication of the Vasari Singers' commitment to and belief in contemporary choral music. Don't be put off by that 'c' word – 'contemporary' – because conductor Jeremy Backhouse chooses the repertoire with immense care, so that it is pleasing both to sing and to listen to.
As Backhouse mentions in his note, the music is predominantly British, with the addition of three Latvian pieces and one American. Those by the Latvian Ēriks Ešenvalds are some of the most striking on the disc. The sound of tuned wine glasses creates a halo for the voices in 'Stars', a setting of an exquisite poem by Sara Teasdale. His other number, O salutaris hostia, has become increasingly popular with chamber choirs; provided, that is, they possess very high soprano voices like those of Jocelyn Somerville and Susan Waton, who sing beautifully here.
In between those comes Jonathan Dove's evocative 'Seek him that maketh the seven stars', with its twinkling organ part. The Vasaris rise to the challenge of the spectacular vocal writing, as they do in Patrick Gowers wonderful Viri Galilæi, a visionary piece, with another highly effective organ part, though this time shimmering rather than twinkling. This anthem's text deals with Christ's ascension to heaven witnessed on the road to Galilee, and develops from a hushed opening to a grand hymn of praise. Gowers, who died in 2014, was an immensely gifted composer, and probably best known for his TV and film music, such as 'Whoops Apocalypse' and 'A Bigger Splash'; but he wrote also a great deal of sacred and concert music, and this work, originally composed for the consecration of Richard Harries as bishop of Oxford, is one of the most striking on the CD.
Perhaps inevitably, those 'twinkling' organ parts do become a bit of a hallmark of this disc, and Cecilia McDowall's fine anthem Aurea luce has another such. It does give me the opportunity, however, to acknowledge the excellent contribution of organist Martin Ford, who plays on the majority of the tracks.
Philip Stopford's Ave Maria has a welcome feature – a truly glorious melody! This is pure catnip to all choristers, and Stopford is content to allow his tune to be shared democratically amongst the choral parts. This is unfussy but hugely effective writing for choir, and balm to the ear. Such simplicity and directness is also a characteristic of the tiny anthem that comes next, one by another Latvian composer, Rihards Dubra. O crux ave is slow moving, homophonic and touchingly lovely. This is the shortest track of all, but is among the most memorable.
The most familiar number here will be Rutter's For the beauty of the earth, with its staccato organ accompaniment, so typical of its composer. To their immense credit, the Vasaris manage to sing it as if they'd never done so before, no mean task. Judith Weir's Like to the falling of a star is a refreshing and delightful song. It sets very straightforwardly – but cunningly – a 17th century poem by Henry King (Bishop of Winchester). It contrasts sharply with the static, luminous sounds of the next track, Eric Whitacre's Lux aurumque.
The calm phrases of Gabriel Jackson's Creator of the stars of night, another evocative and ultimately exultant piece, lead to the final items, four of Bob Chilcott's Salisbury Motets. These are now becoming well-known to choirs in this country and abroad; the longest and, for me, the most beautiful, Lovely tear of lovely eye, is enhanced by the 'cello playing of Muriel Daniels. Chilcott is steeped in the British choral tradition, and also has a true gift for melody. These motets make a fine conclusion to the CD.
Apart from its purely musical qualities, this disc is a great showcase for the Vasari Singers. They certainly are an outstanding ensemble, even if the men are not quite the equal of the sopranos and altos, with a touch of hardness sometimes entering their sound. This is a tough one for choirs and their conductors; high on the agenda, inevitably, is to try for perfection of blend, with no individual voices standing out. The Vasaris accomplish that to a remarkable degree, but with occasionally that slight price to pay.
The Naxos recording is one of their best, and captures so well these superbly curated and delivered performances.
Gwyn Parry-Jones
MusicWeb International