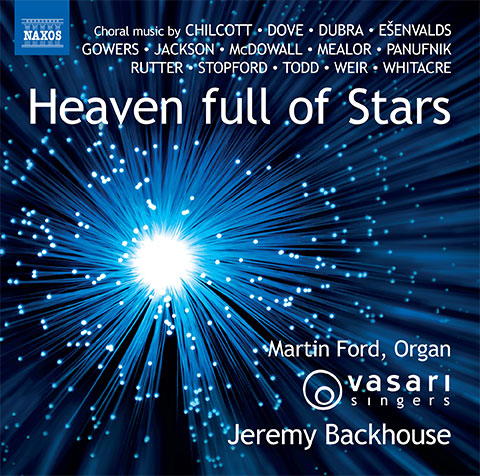 Album Review
Posted:
Friday 10th September 2021
Heaven Full of Stars – Classical Music Sentinel
*****
As soon as I noticed that the name of Latvian composer Ēriks Ešenvalds was listed on this CD, I knew I just had to drop everything and listen. This recording was released to celebrate the 40th anniversary of the Vasari Singers and their director Jeremy Backhouse, and it's chock-full of what this choir does best: contemporary choral music, most of it written by living composers. But fear not, there is absolutely nothing so far out in left field on this recording that will give you the urge to skip to the next track. All the pieces are diverse and yet all share rich harmonic textures, uplifting dynamic swings, and best of all they, like the music of Ēriks Ešenvalds, transcend the here and now, and awaken distant memories of your childhood, sitting in church and hearing what you thought were heavenly voices.
Many of the previous recordings by the Vasari Singers on various high profile labels like EMI, Guild, Signum Classics and Naxos, have been highly acclaimed by both critics and the public alike. Obviously many of the original members have come and gone, but for a choir of 28 singers or so, their blend is exceptional and their dynamic control is flawless (the end of Stars for example is spellbinding), thanks to the experienced leadership of Jeremy Backhouse who, since 1980 has been a strong advocate for new choral music. And let's not forget the excellent support they all get from organist Martin Ford.
If you admire and enjoy higher-calibre choral music, don't hesitate to obtain this superlative collection. Now the hardest part of this review for me is to choose which audio clip to include since they are all equally outstanding, so I guess I will have to include two this time around. The first is from O salutaris hostia and the second one is from the Salisbury Motets. Enjoy!
Jean-Yves Duperron
Classical Music Sentinel