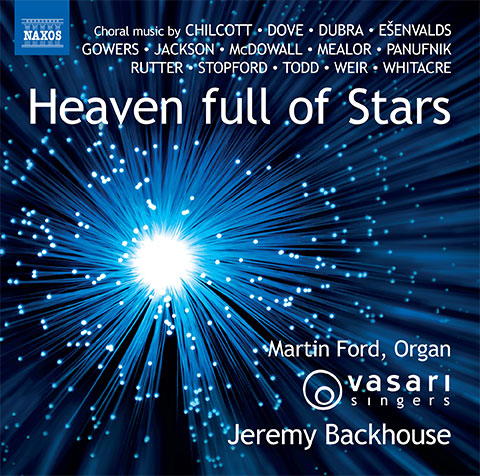 Album Review
Posted:
Monday 13th September 2021
Heaven Full of Stars – Gramophone
*****
Over 40 years the Vasari Singers and founder-conductor Jeremy Backhouse have built up an impressive reputation and catalogue, with recordings spanning a wide range of repertoire but specialising in 20th- and 21st-century works. Now they mark their anniversary year with a collection of contemporary anthems – star-themed, as seems only appropriate.
One of the UK's best amateur chamber choirs, the group has a light, youthful sound that lends itself well to pieces designed to glow, to radiate, to shimmer. The upper voices match the unearthly gleam of the water-filled wine glasses in Ēriks Ešenvalds's Stars, with the choir finding a brighter intensity for Jonathan Dove's Seek him that maketh the seven stars and a more muted, covered luminosity for Rihards Dubra's O crux ave and the supporting accompaniment to the two soaring soloists in Ešenvalds's O salutaris hostia.
There are some interesting lesser-known anthems here. Cecilia McDowall's Aurea luce is a slow-grower – an exercise in shifting waves of texture, pinpricks of flickering light in the organ pulsing underneath sustained chords, Judith Weir's Like to the falling of a star brings a welcome hit of rhythm to a programme dominated by meditative stillness, and 'Lovely tear from lovely eye' from Bob Chilcott's Salisbury Motets introduces a solo cello (beautifully played by Muriel Daniels) in a welcome extension and amplification of the set's richness.
There's variety here, but it's all in the detail. And there's only so much gilded affirmation you can enjoy without wanting a bit of palate-cleaning coolness, the tang of dissonance. You get hints of it in sections of the Dove and Gowers's Viri Galilaei, but not quite enough to get a fully rounded picture of a group that are so much more than just good soft-focus, generously sugared singers.
Alexandra Coghlan
Gramophone