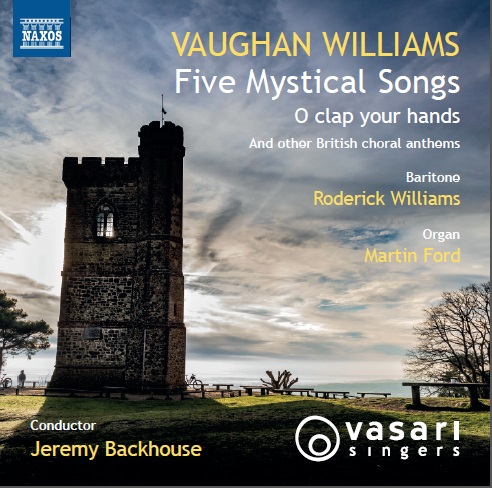 Share Album
Run Time: 76:14
Release Date: 2022
Label: Naxos
ASIN:
Five Mystical Songs
£10.00
Delivery is charged at current Royal Mail prices. FREE on all orders over £30.00.
Dispatched within 2-4 days of purchase.
O clap your hands Vaughan Williams

3:29

Variations on an Original Theme, Op. 36, "Enigma": Variation 9: Nimrod Elgar

3:31

2 Psalms: Psalm 148, "Lord, Who hast made us for thine own" Holst

5:33

O Gladsome Light Darke

3:51

4 Anthems: No. 3. Like as the hart Howells

6:28

Give unto the Lord, Op. 74, "Psalm 29" Elgar

9:23

Wash me throughly Wesley

4:51

O Taste and See Vaughan Williams

1:36

Blessed be the God and Father Wesley

8:01

Bible Songs, Op. 113: No. 6. A Song of Wisdom Stanford

5:25

My Beloved Spake Hadley

3:29

5 Mystical Songs: No. 1. Easter Vaughan Williams

5:21

5 Mystical Songs: No. 3. Love Bade Me Welcome Vaughan Williams

6:08

5 Mystical Songs: No. 4. The Call Vaughan Williams

1:58

5 Mystical Songs: No. 5. Antiphon Vaughan Williams

3:23
Album Details
Featuring Vaughan Williams's masterly and intensely personal Five Mystical Songs, this album reflects on the sources of inspiration of some of his sacred choral works, alongside gems of 19th- and early-20th-century English church music. Often setting the poetry of the King James Bible, the finely spun melodies and sensitivity to word-rhythm of composers from S.S. Wesley to Herbert Howells result in a uniquely British form of expression.