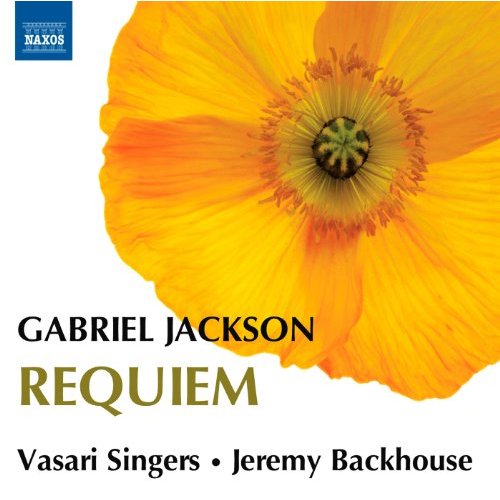 Share Album
Run Time: 69:21
Release Date: 2012
Label: Naxos
ASIN: B009BHI9BU
Gabriel Jackson: Requiem
7
£4.50
Delivery is charged at current Royal Mail prices. FREE on all orders over £30.00.
Dispatched within 2-4 days of purchase.
Requiem: aeternam I Gabriel Jackson

6.45

Requiem: Epitaph Gabriel Jackson

4.24

Requiem: aeternam II Gabriel Jackson

3.22

Requiem: Autumn Wind of Eve Gabriel Jackson

3.03

Requiem: Sanctus – Benedictus Gabriel Jackson

7.04

Requiem: Peace, My Heart Gabriel Jackson

4.35

Requiem: Lux aeterna Gabriel Jackson

6.30

In all his works Gabriel Jackson

4.43

I am the voice of the wind Gabriel Jackson

6.53

Rosa Mystica Bob Chilcott

3.26

Song for Athene John Tavener

6.27

When David heard Francis Pott

12.09
Album Details
While the unifying thread which links these works is that of loss, the underlying focus is an uplifting celebration of life and love. Commissioned and premiered by Vasari Singers in 2008, Gabriel Jackson's Requiem combines traditional solemnity with poems which embrace wide-ranging spirituality, resulting in images of light and radiant optimism.
Contrasting poignancy of expression is heard in personal tributes from John Tavener and Francis Pott, while Bob Chilcott uses Pachelbel's famous Canon to set Oscar Wilde's Requiescat.
Vasari Singers' Great British Anthems (8572504) was described as 'essential listening' by Gramophone. With superbly moving performances of works by four of the foremost names in choral music, this disc cannot fail to thrill choral and British music aficionados everywhere.
All tracks on this CD are world premiere recordings except the John Tavener.