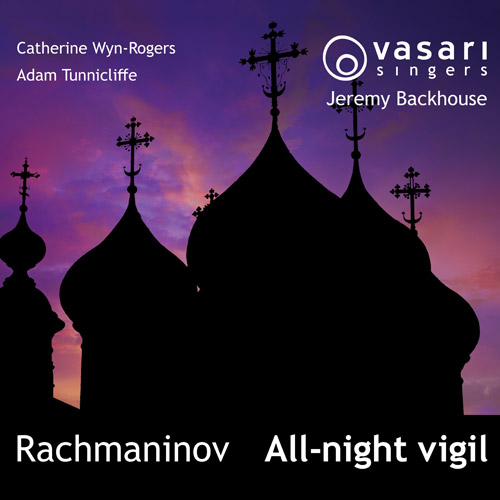 Share Album
Release Date: 2017
Label: VasariMedia
ASIN: VIMACD003
Rachmaninov: All-Night Vigil, Op. 37
£7.50
Delivery is charged at current Royal Mail prices. FREE on all orders over £30.00.
Dispatched within 2-4 days of purchase.
Priidite, Poklonimsya

2:54

Blagoslovi, Dushe Moya

5:00

Blazhen Muzh

5:18

Svete Tikhiy

2:53

Nine Otpushchayeshi

3:08

Bogoroditse Devo

2:59

Shestopsalmiye

2:45

Khvalite Imya Gospodne

2:03

Blagosloven Yesi, Gospodi

5:54

Voskreseniye Khristovo Videvshe

3:33

Velichit Dusha Moya Gospoda

7:45

Slavoslovie Velikoye

7:36

Dnes Spaseniye

1:39

Voskres Iz Groba

3:16

Vzbrannoy Voyevode

1:40
Album Details
Vasari Singers' second release on their own Vasari Media label is a work which has been close to the singers' hearts, as well as to that of Jeremy Backhouse, their conductor, for many years. The All-night Vigil, also known as the Vespers, is Rachmaninov's setting of the Russian Orthodox Church's ancient format of sung psalms and prayers.
It takes the worshiper from dusk to dawn, and transports the listener with its tapestry of rich and wide harmonies, dense textures and phenomenal bass notes, all woven together to form a work of almost unparalleled atmosphere.
The CD was recorded in the St Jude on the Hill, Hampstead Garden Suburb, in February 2017 under the expert guidance of producer Adrian Peacock.