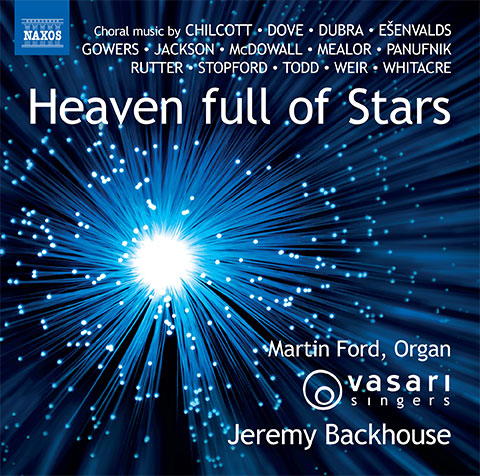 Share Album
Run Time: 81.33
Release Date: 2020
Label: Naxos
ASIN: B08FP7LHSG
Heaven full of Stars
£7.50
Delivery is charged at current Royal Mail prices. FREE on all orders over £30.00.
Dispatched within 2-4 days of purchase.
Stars Ešenvalds

4:46

Seek him that maketh the seven stars Dove

6:31

O Salutaris hostia Ešenvalds

3:31

Viri Galilaei Gowers

7:54

Ave Maria Stopford

3:59

Aurea Luce McDowall

5:57

O crux ave Dubra

2:19

Deus est caritas Panufnik

4:10

Christ is the morning star Todd

5:03

For the beauty of the earth Rutter

4:04

Ave maris stella Mealor

4:05

Like to the falling of a star Weir

3:18

Lux Aurumque Whitacre

3:22

Creator of the stars of night Jackson

4:33

Salisbury Motets No. 1 – I sing of a mayden Chilcott

16:41

Salisbury Motets No. 2 – When to the temple Mary went Chilcott
Salisbury Motets No. 3 – Lovely tear of lovely eye Chilcott
Salisbury Motets No. 4 – Hail, star of the sea most radiant Chilcott
Album Details
Contemporary sacred choral music has been central to the repertoire of Vasari Singers throughout its existence, and to mark its 40th anniversary it has selected a sequence of anthems, mostly with starbased themes, the vast majority of which are by living composers. The rich variety to be heard reflects the choirs commitment to the genre, whether in the ecstasy of riks Eenvalds, the serenity of Jonathan Dove, the shimmering harmonies of Eric Whitacre, or the ethereal beauties of Paul Mealor.